> I recently published three major articles. The three articles received a combined 45,000 views from HackerNews, Medium, Reddit, and other social media. I don't have expertise in content marketing, so take my learnings with healthy skepticism. Each article was an ugly brute force writing process combined with many lucky factors (detailed). See Part Two (below) for detailed analytics about traffic, New Domains and SEO, social media, tips, and mistakes. The three major articles were How Anki Saved My Software Career, Takeaways from OpenAI Five, Strategies, Tips and Tricks for Anki

Audio Version of Part I. How It Happened

Last Updated: June 16th, 2019
- The Gut Punch
- Start Marketing The Day You Start Coding
- Nobody Wants To Read Your Shit
- Hitting Submit to the Internet
- Posting on HackerNews
- Waking up to Garry Tan
- Winning the Lottery
- The Writing Process and General Tips of Finishing
- Visitor Statistics
- Social Media Followers & Outreach Impact
- Google Analytics vs Cloudflare
- Leveraging Medium.com for Traffic and SEO
- The Garry Tan Effect
- General Tips for Increasing Discoverability
- Splitting A Topic Into Series
- Picking Good Titles (And Let's Review My Choices ...)
- General SEO Tips & Impact
- Backlinks, Understanding Nofollow from HackerNews, Black Hat SEO and Twitter Followers
- Search Engine Results on Google
- Daily Visitors And Content Marketing Strategies
- Traffic Is A Vanity Metric, Let's Use Something Better
- Technology Stack
- Shoutout and Thanks
- Good Guides about Content Marketing and SEO
- What To Do When You're Featured on HackerNews
- General Blogging Tips
- The 90/90 Rule
- Links Users Emailed Me
- What's Next
The Gut Punch

I stared at the floor. The Reddit comment felt like a punch in the stomach. Fuck.
My content marketing was a train wreck. Why was I doing this again?
Start Marketing The Day You Start Coding - Rob Walling
Many software engineers love the great product lie. "All great products market themselves". I should know. I've lied to myself countless times. It's easier to keep coding on the "great" product than try marketing on an indifferent market. The outcomes were always the same; lack of marketing meant guarantee of death. It was time to grow up. Marketing first, code second. No more exceptions.[1] To start marketing, I needed traffic. But from where?
Ten years ago, spamming generic content guaranteed search engine traffic. Not anymore. I needed to create something Google would rank:
I write emails all the time. How hard could it be to write content? I'll write a technical summary about DeepMind's AI Bot AlphaStar. Can't wait for all that traffic.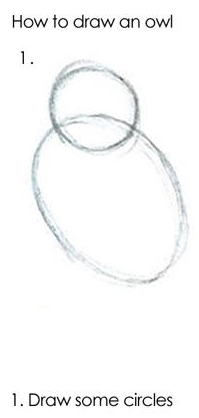 I started with a short research phase. Reading two research papers jumped to five, ten, forty. I watched lectures and read anything related to AlphaStar. Frustration boiled. "Just stop procrastinating and just write!" So I wrote. A lot. But something was wrong. Over a few weeks, I crammed words into sentences. At a cursory glance, they even looked like paragraphs ... But they weren't paragraphs.
Being cutesy about a technical topic resulted in verbal diarrhea. 3,792 words of shit. I suddenly understood why good technical summaries were rare. Summarizing technical material is hard.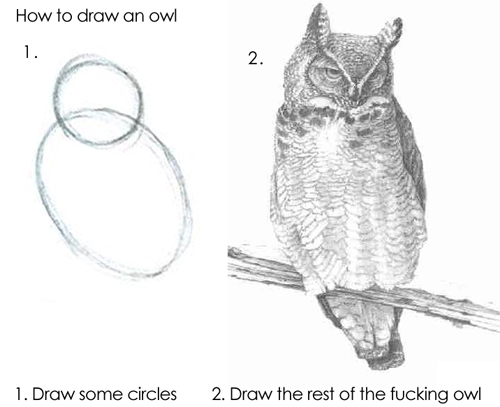 Good writers have something to say. I had nothing to say.
"You don't write because you want to say something, you write because you have something to say." -F. Scott Fitzgerald
[1] Bad pun, but I couldn't help it.
Nobody Wants To Read Your Shit
Writers battle the world of indifference. A writer's biggest challenge? Can they hook readers from the first sentence and entice them to the last? My first attempt failed. Humbled, I began writing something personal I knew about. Using spaced repetition as a software engineer. Still, easier topics don't mean completion. For two weeks, I wrote, revised and rewrote. From draft to publishable and back to draft. Tuesday's best paragraphs were deleted on Wednesday.
Content marketing guides brush over this fact; great content requires countless iteration and revisions. [1] Maybe the answer was to care less about the content, because I cared too much. I spent countless hours in self-doubt, uncertain if my work justified ten readers. A lingering thought remained though, would I have read this? Yes. Then go finish writing.
[1] I also kind of suck at writing. In no way am I implying my content is even "good" compared to the greats.
Hitting Submit to the Internet
I finally finished. I posted on Reddit. And the Internet's visceral response? Worthless. I whined to myself. "I don't want to do any more bullshit marketing; I just want to code."
It took me a day before I had the courage to post it elsewhere. This time my bruised ego only allowed low-traffic sites. Rationale? No one will see you bleed.
I hit submit to a small Anki site. After posting, Gmail alerted me that someone commented. My asshole clenched. I opened the email.
"Thanks for sharing this very interesting (and motivating) read. You should also post this in the unofficial user forum at https://www.reddit.com/r/Anki".
I stared at the comment. It was genuinely kind and my psyche needed it. But it also felt like a mean joke … post on Reddit ... again? Granted, a different subreddit …
Fuck it. I clicked r/Anki's submit. It received numerous upvotes, nice comments, and I was joyous. I had 300 visitors that day from Reddit, which was about 250 more than I could have imagined. This was a great day.
I'm eternally grateful to those with constructive/kind comments (not just for me, but for anyone). Had it not been for them, I probably would have been too scared to post again. I went back on Reddit, bought a gold pack and gifted gold to the kind comments.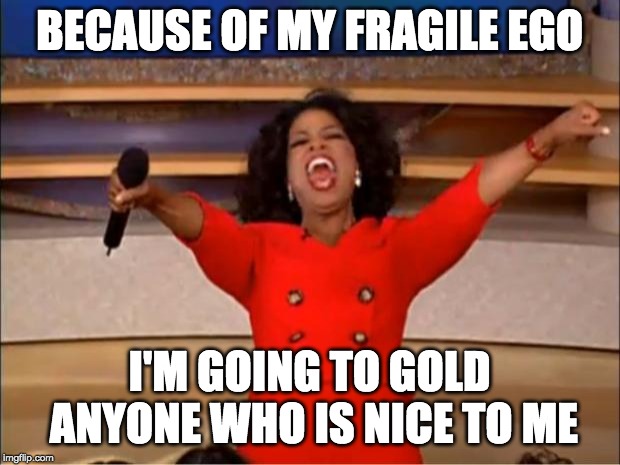 Posting on HackerNews
HackerNews (HN) is a high-traffic tech syndication. It's one of my most frequently visited sites. I was also deeply scared of submitting. I've witnessed comments rip much better content to shreds; my ego wasn't ready for that. That weekend, I had been awake for 36 hours (another story). At the 36th hour, sleep deprivation shut out my fragile ego and reasoned I should submit to HN before sleeping.
It saw four probable outcomes:
you get 10-50 visitors, a few comments will rip you to shreds, but you'll be asleep. (okay case)

you get 10-50 visitors (best case)

you get 1 visitor lamenting on how much your writing sucks (worst case)

you get 0 visitors (probable case)
Being delirious makes anything seem logical. I hit submit and passed out.
Waking up to Garry Tan
Twitter was oddly the first site I visited after waking up (I rarely visit Twitter). On my feed, Garry Tan (famous person, I am a nobody who follows him) had ALSO written about spaced repetition. Sigh. I felt self-deprecation? bemusement? Out of all the possible topics, my article now had to compete with garry's writing? We even picked the SAME cover image!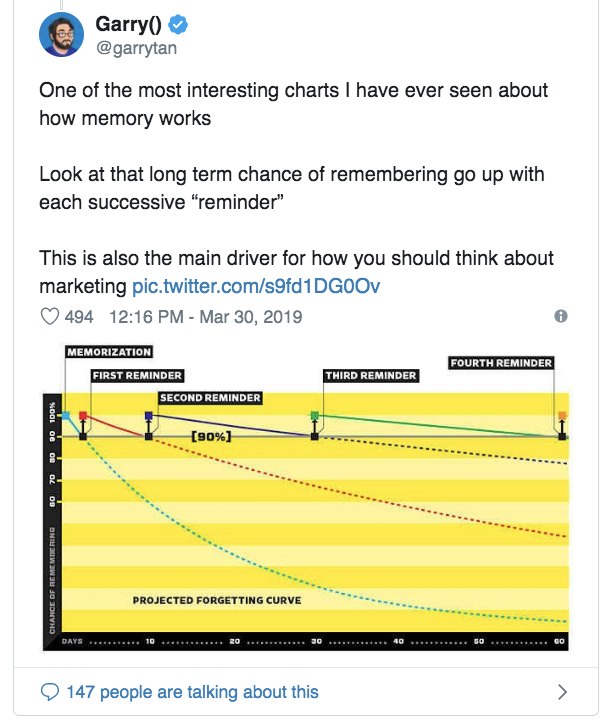 Wait... What?! Holy crap ... Did Garry tweet your article!?

Immediately after I fell asleep, my submission had quickly gathered upvotes. Garry had tweeted my article after seeing it on the first page of HackerNews.
Winning the Lottery (Twice!)
Being on the first page of HN is akin to winning the lottery; it's random. Sometimes readers upvote your submission, sometimes they don't. I have no idea why I won. But winning gets you traffic. A LOT.
Traffic immediately peaked after posting; 2,000 visitors in the first hour. (Detailed logs below). Considering 300 visitors made me happy, this was downright euphoria and madness. After realizing what happened, I jumped up and down like a kid on Christmas for a good five minutes. My downstairs neighbors hated me.
About a month later, my follow-up article also got on first page (which was ridiculous lol). Thankfully, someone had posted my follow-up article.
Disclaimer: I have seen much better content not get traction on HN, so marketing just for HackerNews is probably ill-advised. I don't expect this post to get traction from HN because of two reasons
The Writing Process and General Tips for Finishing
I was surprised how hard and long it was to finish articles. I'm too self-conscious about my writing, resulting in many revisions with diminishing returns. That being said, discovering someone liked your material is exhilarating. These three articles got more traffic than I could have imagined.
Plenty of non-writers have trouble finishing their articles. If you're not a writer and finding difficulty finishing, start a writing routine. I learned a lot about writing routines the hard way. Even professional writers have difficulty finishing, don't be discouraged! I wrote the last sentence for my future self.
For those just starting, learning lessons from my mistakes:
Have a rough outline before writing

Pick topics that aren't too personal (otherwise, you might care too much)

Pick topics you have some background in (otherwise, a long drawn out research process that can end in failure, cough cough)

Have someone enforce a deadline (this post sadly took a month to finish)

Start writing at the beginning of the day
In short, learn from my mistakes.
Only a fool learns from his own mistakes. The wise man learns from the mistakes of others. - Otto von Bismarck
There were a few books I used as writing mentors. It's helpful to have a good gist to avoid common mistakes. I've also included links to Derek Siver's summaries to prevent you from reading/procrastinating make sure you start.
Other recommended tips (and/or gleamed from writers):
Turn Off WiFi

Change locations frequently. Go from coffeeshop to coffeeshop, write outside, etc.

Change writing mediums. Try writing with a pen and paper instead of a laptop.

Watch out for distractions when facing writer's block. I used a lot of my productivity checklists as a block.

Acknowledge that even great authors constantly struggle.

Use the Hemingway App to proofread your content.

Just start! Try to get just three-five sentences a day. Momentum helps.

Stop mid-sentence, it makes it easier to start the next day.
Good luck! Writing is a painful, but rewarding process. I hope this motivates someone to finish that article that's been stuck.
Traffic, Analytics and Other Related Tips
Visitor Statistics (as of 6/6/2019)
| | | | | | | | | |
| --- | --- | --- | --- | --- | --- | --- | --- | --- |
| Article Name | Date Published | Initial Views from HN (2 Days) | Initial Views from Reddit (1 Day) | Initial Views On Medium | Total Views on Medium | Total Views on Site (Cumulative) | Total Views (Combined) | Average Daily Visits (Lookback: 7 Days ) |
| How Anki Saved My Software Career | 3/27/2019 | ~13k | 455 (Multiple subreddits) | 1,302 | ~2k (38% Medium, 62% External) | 21,339 | ~23k | 25.14 |
| Takeaways from OpenAI Five | 4/22/2019 | 50 | 246 | 1,868 | ~3.5k (31%, 69% External) | 892 | ~4.5k | 3.14 |
| Strategies and Tips for Anki | 4/29/2019 | ~11k | 808 | N/A | N/A | 17,793 | ~18k | 61.85 |
Social Media Followers & Outreach Impact
Received 11 emails about my content. Many of them were saying thanks and that they appreciated it (which made me feel warm and fuzzy)
My Twitter handle shekkery received an additional 79 followers. Started from 30, currently at 109. Can't wait to tell my mom I'm such a popular influencer.
Received 28 followers on Medium.
Had one request to be on a Meta-Learning Podcast. Politely declined due to imposter syndrome.
Gave permission to someone to translate Strategies and Tips into a Chinese.
Gave permission to someone to translate Strategies and Tips into a SuperMemo version.
Received multiple spaced repetition tips from Reddit and Email. I then added to article and accredited.
I received a second wave of traffic from the HackerNewsLetter.

I didn't know this existed, but it gets a lot of traffic!

Got a few emails about other apps focusing in spaced repetition, which I'm linking below if interested.
Saw one blog copy parts of my article for their own content marketing. Expected, but bummer.
Google Analytics vs Cloudflare
I use both Google Analytics and Cloudflare. They both have traffic analytics.
I thought I would see a constant ratio when comparing traffic between Cloudflare and Google Analytics to understand more about traffic was from bots and/or AdBlockers, etc, ... I didn't see a pattern.

- Based on unique users, not total views.
- Google Analytics was changed to UTC to match Cloudflare's default UTC Timezone.
- Data was exported from Cloudflare via API, Google Analytics's API wasn't straightforward, so that was manual.
- If interested, here's a quick script to export from Cloudflare. You'll have to change the variables for it to work, but it should give you the gist (if you have pandas).
- % Blocked/Missing is calculated as (1- Google Analytics / Cloudflare). I initially tried graphing just Cloudflare / Google Analytics, but the numbers were really erratic.
- 2019/3/30 was when How Anki Saved My Software Career hit HN's first page. 2019/5/5 was when Strategies and Tips for Anki hit HN's first page.

Leveraging Medium.com for Traffic and SEO
Medium helps spread your content. The traffic generally doesn't come back to your site, but you should leverage Medium for SEO, email signups and followers. If you add links to previous content, readers can be directed back to your primary site.
You should not use Medium as your primary blog! Have your own blog and import articles into Medium. You need to be in control of your own distribution platforms.


Nothing against Medium, just owning your own content is too important. When your primary blog is Medium, you don't "own" your content. Medium owns it, because your articles are stuck on their infrastructure ...

Leverage Medium for Google indexing. Early on, I wrote two quick technical articles. I imported into Medium and set a canonical source (make sure you do this correctly). Within two days, Google started picking up my domain. Before this, Google didn't know my domain existed.

Medium frequently creates links in articles with a "nofollow". Nofollow means Medium tells Google it won't vouch for the link. When articles are imported, they have an original (canonical) link. That link is respected by Medium / Google. I inspected Medium's HTML to see this. This may change.

Most of your traffic on Medium occurs on social media. Medium links are frequently shared.

Always choose a good featured image. When shared on social media, a good image and title is one that spreads.
Publish behind a publication! Publications have more followers and can spread your article. I tried publishing without a publication and received only ten views. After republishing with a publication, traffic surged.
I published with two different publications, FreeCodeCamp and Towards Data Science.

FreeCodeCamp has an editorial process where they fix your articles before publication. They've just moved off of the Medium platform, so you can't use them as a publication anymore.

When I published on Toward Data Science, Medium alerted me that Medium Editors had selected my article for "Featured", which was pretty cool. It resulted in more views the second day, dropoff rates much lower.

April 8th was How Anki Saved My Software Career, April 23rd was Takeaways from OpenAI Five.

Articles behind the Medium Paywall increases views. Medium's algorithms favor paywalled articles. Even if you don't care about making $1.12 [1] dollars from Medium's paywall, putting it behind the paywall get more views.

When importing articles, Medium CANNOT import SVG images. The import process will just say "Failed" (without explaining it's because of SVG). I made the mistake of copying an article directly into Medium but forgetting to set the canonical URL. (I am a dumbass). You cannot set the canonical URL after publishing.

To get additional signups for my newsletter, I added Upscribe to Medium. It's a bit expensive ($9 a month). It wasn't really worth it.

Medium gives Read Ratio analytics. My writing needs improvement. I debated not showing this, because I'm a little ashamed.
[1] - I don't know what the actual payout is. I haven't setup payouts.
I was surprised a tweet from @garrytan brought ~300-500+ additional visitors
For a few weeks "garry tan" was a better search keyword to my articles than googling "senrigan". All of that from one tweet!
Historically, Google's page rankings mostly ignored links posted on social media. It seems the algorithm has slightly changed (likely due to RankBrain?).
Huge thank you to @garrytan for tweeting!
General Tips for Increasing Discoverability
Make it easy to share on social media. Have social media sharing links within reach. About 10-20%+ additional traffic came from social media.
Split an article into multiple parts.

Users will revisit looking for the followup. The Anki articles were two parts.
This post should have been another two part series (one as the anecdotes, another with the metrics), but I was too lazy.
Another reason for multiple parts is users will start on the 2nd part and frequently go back to the first to read.
You can shape Medium's traffic this way. Repost on Medium Part 1 and include a direct link to Part 2.
In the image below, most of the traffic was from Anki Strategies and Tips, but about 10% of users clicked to the first article. That created an additional 10% boost.

Picking Good Titles (And Let's Review My Choices ...)

One thing I learned early on is that, on the internet at least, the title you give to an essay has a huge effect on its spread. -Paul Graham

When articles are shared, people click based on titles and images. Picking titles is hard. If the title is too clickbaity, you'll feel dirty and need a shower. If it's too generic, you can't afford a shower.
Apparently, 60-80% if an article will spread is the title.
Keep titles between 8-14 words (Source: HubSpot).
Review: How Anki Saved My Engineering Career

Title is slightly clickbaity.
Unsurprisingly, this title spread the most on social media out of all my articles.
Original title was "Chasing 10X: Leveraging A Poor Memory in Engineering" which now looks laughably bad.
Changing to "How Anki Saved My Engineering Career" did much better.
HN moderators renamed the clickbaity title to the original title.

Review: Takeaways from OpenAI Five (2019)

Bland title.
Just awful title. WHAT WAS I THINKING?!

Review: Everything I Know: Strategies, Tips, and Tricks for Anki

Reasonable? I couldn't think of anything better.
It was renamed to "Strategies, Tips and Tricks for Anki" on HackerNews (HN's moderators does not like clickbaity titles).

Use different sites, forums or subreddits to A/B test titles.
Using brackets like [Guide], [Tutorial] increases clickthrough rates by 38%. h/t HubSpot

Neil Patel's Guide on Picking Titles is a pretty good guide.
General SEO Tips & Impact
When I started blogging, I didn't know what a backlink was. Now, after reading so many SEO articles, I'm listing things I learned. Most SEO blogs are trying to sell you something. It's infuriating to find information, since it's hidden behind six filler paragraphs, a popup, or some other dark pattern.

The bolded bullet points are the most important. Some decisions should be made before writing.
Backlinks, Understanding Nofollow from HackerNews, Black Hat SEO and Twitter Followers
Being on the frontpage of HackerNews means you get a lot of additional links back to your content.

Most links are other content syndicators.
Links also included personal blogs that liked your content.
There are many downstream Twitter Bots that retweet HN's top links.

Across three articles, I received about 90 inbound domains linking back. The majority of those were bots that automatically follow the frontpage of HN. This graph was a free query from Moz Pro. No affiliation.
Black Hat SEO

90 different domains linked to my content creating 1,600 inbound links (Moz).
EDIT: Google's Search Console reports 626 links. It seems that Google figured out what was going on and pruned them.

I've created an export download of all the links that referenced Senrigan. It's interesting how content gets syndicated from HN across the web.

1,600 links is a very high number for 90 domains.
After doing some research, I realized I was being used by private blog networks to trick Google.
Private blog networks (PBNs) create a lot of links to anything on HN's first page to trick Google to mimic blog behavior. After fooling Google, they will create an artificial amount of links to a site that someone may pay a PBN for. That site then gets a huge search engine boost.
PBNs are illegal and frowned upon by Google.
Two PBNs created about ~1000 links to my articles.
For proper SEO maintenance, I should go to Google and disavow the 1000 links. I haven't yet, because the process is annoying. The longer I wait, the more likely I'll get a SEO penalty though.

But at the moment, I'm also probably getting a SEO benefit ...
EDIT: Seems that Google automatically realized what was going on.

Most of the highest value links were from link syndicators like Flipboard, Diigo, HN (because I posted there!), Pinboard.

Moz has a score ranking that tells you this. Ahrefs does too.

Most of social media gives links with a "nofollow", which tells Google "this is an external link, but I don't vouch for it".

This is why spamming social media with links won't boost your SEO rankings. However, Google will recognize when your content is shared on social media.

Posts on HackerNews are a nofollow unless it gets five upvotes.
Links posted in comments on HackerNews are a nofollow.
Search Engine Results on Google
When I began, a Google search for Senrigan didn't return this domain.
After three months ... Using Google Incognito + [keyword]
Daily Visitors And Content Marketing Strategies
Content marketing strategies are about creating assets that bring in additional traffic. It's preferred to have a stream of directed traffic than large bursts of unfiltered traffic. A proper evaluation of content marketing is AFTER the initial traffic — is the daily visitor count increasing?
Anki's Tip and Strategies is bringing in an additional daily ~62 views a day. Hopefully this number increases as content ranks better.

This sort of makes sense though, one would expect a guide to have more daily visitors.

In contrast, topical content (content about a current event, etc) doesn't last well. My article Takeaways from OpenAI Five only has three daily visitors. The average read time for that is 0:00. (lol).
The medium-term marketing strategy is about creating marketing flywheels. Can I create useful content that boosts previous content? Can I do this enough till growth compounds?

It's early, but we see some evidence. One article received a complimentary 10% traffic from a Two Part Series.
Traffic Is A Vanity Metric, Let's Use Something Better
Having 40k visitors sounds cool, but it doesn't mean they're following your new content.
Let's review newsletter signups. At the end of every article, I had a non-obtrusive newsletter form.
Email signups averaged 1 signup per 1000 views. Which isn't a lot. I was disappointed since I used the number as a gauge for writing ability. It was reassuring that blogs w/non-obtrusive forms reported similar rates.
The average industry rate is ~1.19% for full-screen-can't-see-shit popups. The rate per 1000 views would be 11.9 signups. That's a 10x increase. That's insane.

I don't like large popups because they really feel cheap and ruin a user's experience.

I paid $9 (monthly) for Upscribe. It gave me a fancy easy email signup form on Medium. 4 email signups over 6.5k views on Medium. Probably not worth it.
Total newsletter signup was 50 visitors. 3 signed up by finding non-public pages and signing up.
I recently (June 10th) added a topbar to A/B test email signups.
Netlify and Gatsby (React) power this site.

I ran into zero traffic hiccups with this stack. It served traffic spikes seamlessly.

Cloudflare handles my DNS and subdomain configurations.
Cloudflare's Page Rules helped fix issues with trailing slashes, links having an extra www, and other dumb mistakes.
Gatsby gives great mobile performance out of the box..

Run Google's performance tests to ensure you're scoring 90%+.
Last 90 days analytics: Mobile was ~60%. Desktop was ~35%. Tablet was ~5%.
Care about mobile performance first.

If you're using Gatsby and Netlify, make sure you fix the trailing slash 301 issues!
I'd easily recommend Cloudflare, Netlify and Gatsby for most scenarios.
If possible, create your blog as a static site. This is harder than WordPress.


WordPress sites have performance issues from traffic spikes. Static sites normally don't.
Getting a surge in traffic is rare. When it happens, you want your site to be performant.

You should NOT be using Medium as your primary blog. You need to control your content infrastructure.
If you have the technical skillset, I'd recommend using a static site and Netlify. Gatsby is great if you know React, but there's many static page options across languages and options.
I used a headless CMS to manage articles and images. It did a great job delivering content, but I ran into some issues that make me mixed about recommending.
I use GitHub to make site changes and a headless CMS to update content. Changes to either triggers a Netlify deployment.
All things being equal, prioritize publishing content first and not an over-engineered tech stack.


But ... don't use Medium as your primary infrastructure.
Netlify and Gatsby for being an amazing tech stack.
Moz and Rand Fishkin (Moz Cofounder, wrote many Moz's blog articles). No affiliation. Moz's Blog has clear & direct SEO advice. Other SEO sites kept on asking for an email address (and spamming me), payment for something, or made me scroll through lots of filler for information. I found Moz's site helpful in thinking through subdomains vs subfolders, trailing slashes, if I should use www.
IndieHackers is a great community!

Rosie Sherry shared my article when I was pretty down after posting on Reddit.
Sadly, when searching "senrigan", my IndieHackers' profile returns before this site. IndieHackers' SEO force is too strong with this one.

Ingve - I don't know who you are, but thank you for submitting my article to HN!
Huge thank you, thank you and thank you to everyone that shared my articles.
Good Guides and Examples about Content Marketing and SEO
Julian Sharpio's Site/Blog
Moz's Blog

Lots of great content about SEO.
Perfectly the right amount of advertising features and useful information for content marketing.

Ahref's Blog

Similar to Moz's Blog. Scroll down to their "Best of Ahref's".

How To Get Published in FreeCodeCamp

This isn't as relevant since it's mostly about publishing on Medium, but does have broad useful advice about writing and how to keep a user's attention.

Mode's SQL Introduction

This is an example of amazing content marketing.
By creating a series of interactive and useful tutorials, Mode gets plenty of leads for their business analytic tools.
What To Do When You're Featured on HackerNews
If you're lucky enough to be on the front page, congrats!
Prepare to get very little done the next two days. Twitter and Google Analytics will be distracting as you keep on checking your site's amount of active users.
You'll have a lot of tweets to respond to.
Respond to the emails as quickly as possible. It's easy to forget later.
I found that commenting in the HN thread kills conversations. Now, I'd probably comment to any major defamation, but otherwise, let organic comments grow. The HN community is smart enough to defend your points without your comments.
Invest in the time picking a good title.
Create a strong hook in the beginning that get's the reader's attention. First ten seconds are probably the most important. The average attention span of Internet users is 8 seconds. A goldfish is 9 seconds. Source: Time.com
Use a Table of Contents
Sometimes you have an idea you want to use, but it just won't fit (yet). It's best to put that at the bottom of your draft as a bullet point and revisit later.
Have someone proofread your content.

I don't follow this advice, despite all bloggers recommending it. By the time I'm done, writing has taken so long I can't stand to revise anymore.

When first blogging, use simple articles as a test. Write something shareable that takes 10-15 minutes to create. Use this to fix technical issues before you post feature pieces. Doing this helped fix technical bugs that would have been catastrophic for feature pieces.
When you're done with a feature article, publish it to smaller traffic sites first. This will make sure there are no major gaffes (titles misspelled, key factual errors, blind spots, etc) that hurt an article's credibility.

Publish first to niche low-traffic sites. Sites that are in the [niche interest] usually have separate forums.
Then publish to lower traffic subreddits. Progress up.
Then publish to high traffic places like HackerNews (remember: this is a crapshoot), large subreddit communities.
Publish to Medium last. Medium probably has the highest reach, so you want to exhaust direct links to your site first before using a Medium's platform.
There is a small risk that someone posts your link in another higher traffic subreddit, another site, etc.

Have someone hold you accountable on deadlines. It'll force you to limit the scope of an article.

I sheepishly have to thank followers asking why Anki Tips and Strategies wasn't published yet ...

Having an audio version increases traffic.
The 90/90 Rule
Engineers like to joke about the ninety-ninety rule. It constantly happens in writing software.
The first 90 percent of the code accounts for the first 90 percent of the development time. The remaining 10 percent of the code accounts for the other 90 percent of the development time. - Tom Cargill (Bell Labs)
I was surprised to find the 90/90 rule also in writing. Everything took more time than I estimated, procrastination was rampant. My brain was constantly distracted by content I could write for other topics.
Brain: and then you can write about this other subject and code that, and then you should ...
Me: BRAIN! Please! I JUST need you to focus for two hours!
Brain: Okay.

~ Two minutes later ...
Brain: And you should write about this more INTERESTING topic, and you have this awesome idea, so you should buy that domain name before it's taken because buying a domain name is the most URGENT thing to do RIGHT NOW at 2:35 AM
Me: Sigh.
Brain: HEY CAN YOU HEAR ME? SOMEONE IS PROBABLY GOING TO SNIPE THAT DOMAIN NAME IF YOU DON'T BUY IT.
Me: Sigh ... Takes out credit card.
Each article took over sixty hours to research, write and do revisions. My article about OpenAI 5 and this article took particularly longer.
Don't worry. This is on the high-end of time committed. Experienced writers can create good material in less than twenty hours. Having a strong outline ahead of time is ... recommended.
Links and Projects Readers Emailed Me

Some people emailed me for feedback for spaced repetition projects. I know how hard marketing is ... so take a look if you're interested! I have no affiliation, just passing it forward.
What's Next
It normally takes six months before Google indexes new domains and content. I focused on creating content first, because building a product without external discoverability is a guarantee of death.
The next published content won't be an article, but will be a free and open-sourced tool applying open-sourced machine models for writing. I know I'm being vague, and machine learning is full of hype, but revisit in three weeks. As always, I'm sending this to newsletter subscribers first.